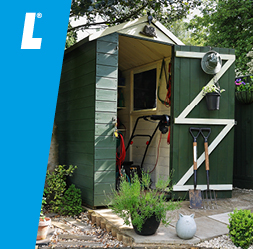 It's the perfect time to get out in the garden to give the shed some love and care. Regular maintenance can extend a shed's life considerably, so it's well worth doing – and well worth doing properly. Have a look at our top tips before you get started.
Tip 1: Check the weather
You don't want to paint the shed when it's too cold – approximately under 10°C - as it will take an age to dry, and you don't want to do it when it's too hot as the paint can flake and blister.
Tip 2: Give the shed a good scrub
Sheds are prone to attracting mud, mould, cobwebs and general dirt. Before you grab your paint brush, give it a good clean using general purpose cleaner and a hard wire brush.
Rinse it off with a hose afterwards and allow the wood to completely dry before moving onto the next step. For this reason, try to pick a warm day!
Tip 3: Repair any gaps
Ensure your shed is watertight by filling in any cracks or holes that have developed over time. Thick fillers (with a putty feel) are best for large cracks or holes. Read our full guide to using wood fillers here.
Again, allow the filler to dry before moving on. Drying time will vary dramatically depending on filler used.
Tip 4: Smoothly does it
Remove any bits of wood and flaky old paint by sanding in the direction of the wood grain.
A top tip here is to wrap a piece of sandpaper around a block of wood.
Tip 5: Treat the wood
Good quality wood treatment can last up to five years. Although you could legitimately skip this step move straight to paint which will offer some protection against the elements, applying treatment first really will extend the life of your shed significantly. You can apply some treatments with a spray, but it's often just as easy to use a roller or a wide brush.
Allow to dry.
5: Get Painting!
Preparation now complete, it's time to paint the shed in your desired shade.
If you're using more than one tin of paint, it's a good idea to mix them together in a large bucket as the shade of each tin might be ever-so-slightly different. A stick of scrap wood with holes drilled in it makes a great paint stirrer.
It's a good idea to paint a test area first to ensure you are happy with the colour.
Cover any window frames, handles and locks with masking tape and apply with a roller or brush.
Job done!
Shop our range of cleaning supplies, wood fillers, sandpaper and exterior paint online or in our stores.
You can see all our blog posts here.