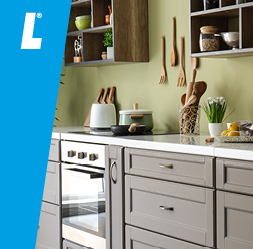 What's cookin' in kitchen design this year?
For reasons no one can really explain, kitchen colour schemes have always had relatively narrow parameters.
Go back a few generations and the changing tastes of British families meant a constant reinventing of ideas for much of the house. From the primary colours and pop-art influence of the 60s, to the oranges and browns of the 70s, to the urban chic of the 80s; we've seen living rooms and bedrooms reflect just about everything from rural idyll to sci-fi.
In the kitchen, meanwhile, these variations have been somewhat muted by comparison. White and stainless steel were long considered the staples of surfaces and cupboards, as if to demonstrate how clean and clinical we were. And if not pure white, then certainly something fresh, such as lemon yellow or sky blue.
Let's look at how current trends are developing in the kitchen.

Creativity
Over time, as good kitchen hygiene became more a standard expectation, a renewed yearning for the bygone and rustic took hold, with wooden units, farmhouse tables and pine dressers taking their place in a sea of beige, often accompanied by wheatsheaf designs and images of contented countryfolk.
So it's good to know that our choices for kitchen décor are now as unrestrained as any other part of the home. Though the finishes may still vary, to accommodate a little more exposure to steam, heat and condensation, there is no longer a dreary unwritten law that, once in the kitchen, your full creativity must be left at the door.
This is partly because kitchens are far more integrated into the general home these days, often large living spaces that form the very heartbeat of the property. As such they deserve equal billing when it comes to design and painting and decorating.
Going green
Right now, green seems to be the kitchen buzzword – and this time we're referring to the colour green, rather than its eco-connotations.
Always tasteful, olive green – with its subdued, grey tones - remains a favourite and can be allied to a deeper Hunter green for a fashionable two-tone effect. While very artful in the right setting, these colours are on the dark side, so possibly more in contention for a larger space with natural light, more than a galley or smaller kitchen. Then again, a dark-painted wall can easily be enlivened if used for shelving, clocks or pictures.
Not far removed on the palette is sage green, that peaceful, versatile hue that seems to come with built-in character yet can set off furniture and other, more eye-catching, décor like few other colours. It's hardly new on the scene for doors and cupboards but, given its suitability in so many schemes, sage is not about to lose its appeal for a good while yet.
On the brighter end of the green spectrum are the more playful mint and apple-green hues. These colours just exude freshness so can help breathe life to smaller kitchens, perhaps where natural light is at a premium. Chosen correctly, the effect can be upbeat and stunning, and, to be at their best, these zesty colours should be part of a complete 'look' rather than added at random to an earlier scheme.
Moody blue
Blue is another enduring favourite in modern kitchen design and, rather like green, it is capable of so many subtle variations, ranging from the deep and solemn to the bright and zany. Hot as a glowing oven ring right now is turquoise, with its retro appeal providing a great base for characterful objects and posters.
On a contemporary note, pastel blue and navy rarely miss when combined for a touch of sophistication, while duck egg remains something of a classic for understated elegance.
These of course are just a few of the thousands of colours, tints, shades and finishes you can explore when planning a new look for your kitchen. Here at Leyland SDM, we not only hold thousands of lines of your favourite paints – including Johnstone's Paint, Leyland Trade and Dulux - but we're always happy to engage, advise and support you on your mission to make the most of this very special room.
If we don't have the exact colour you're looking for, our colour matching service will ride to the rescue.
And while you're there, we also have everything else you need to get the job done, from building supplies, plumbing supplies and power tools.
Click here to find your nearest Leyland SDM store.