Farrow & Ball Curated by Liberty Available in Store!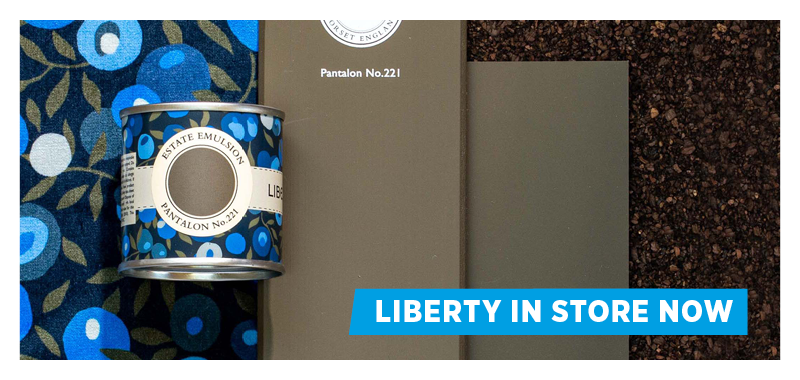 We've got some exciting news to kick-start October – Farrow & Ball Curated by Liberty will be available across our 30 stores from TODAY!
In May this year we were proud to add premium paint brand Farrow & Ball to our shelves.
And now, in news which will excite people planning to redecorate, two iconic British brands - paint powerhouse Farrow & Ball and luxury London department store Liberty - have joined forces to create timeless combinations of colour and print.
In a collaboration made in design heaven, experts from both famous brands have put their creative minds together to handpick winning combinations for a new generation of homes.
Fifteen richly pigmented paint colours from the Farrow & Ball Archive have been paired with Liberty Interiors Fabrics from the Modern Collector range to inspire and motivate.
There's something for everyone, whatever your style. There are subtle Farrow & Ball tones in Archive (a classic taupe) or Clunch (a soft chalk white), or edgier colours in Cola (a red-based brown) or Cane (an earth-based yellow).
Once you've selected your favourite colour, it's as simple as finding the recommended complementary Liberty fabric for your curtains, cushions or wallpaper to create a seamless look, safe in the knowledge it has been recommended and approved by interiors experts.
The results are stunning – bold and statement-making, yet tasteful and timeless.
"'Each of our Archive colours is greatly treasured – many customers consider them hidden jewels, which makes them very appealing," says Joa Studholme, Farrow & Ball's colour curator. "Others take comfort in knowing that a favourite colour used to decorate one's home years ago is still readily available today. Each one is as loved now as when it was first created."
Genevieve Bennett, head of design interiors at Liberty, adds: "All our collections are very colour-led so it was incredibly exciting to extend the Modern Collector range further with Farrow & Ball – another brand with a deep heritage and authority in colour – to curate an edit of 15 beautiful shades from their archive."
Whatever your decorating plans, Farrow & Ball and Liberty have created the most exciting partnership of the season which will influence interior design across the world.
Limited edition sample pots will be available in all Leyland SDM stores, along with six sample Liberty print designs to help you decide on the right look for your home. A first for the Farrow & Ball Archive, these pots form a series of colour and print combinations and contain 100ml of the signature Estate Emulsion finish.