GETTING YOUR HOME DIY-READY FOR A SALE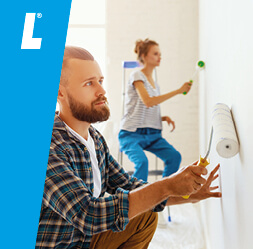 Selling a property will rank highly in the list of stressful experiences in any individual's life.
But at least part of that anguish can be removed by ensuring your house ticks all the DIY boxes by the time the 'for sale' signs are in position.
Here are a few handy tips - which won't break the bank but will make the property more appealing and, hopefully, make sure the asking price is met - for getting your house in the best possible shape for potential buyers.
Time for a fresh coat of paint
Sprucing up the inside walls can make a real difference and provide multiple benefits to any room.
Aesthetically it will be pleasing and it will also cover up any little scratches, holes and cracks which may have been the result of natural wear and tear.
Neutral colours such as whites and greys may be worth considering as they bring a spacious and airy feel to any room.
No job is too small
When people are looking around a potential new home, their attention to detail will never be higher. After all, they are contemplating a very significant investment.
With that in mind, it's worth giving each room a careful inspection and carrying out all those jobs that you may have been putting off.
It might be tightening a loose door handle, adjusting a displaced tile or filling in a crack in the floorboards.
No job is too small when it comes to getting your house fit for viewings – it's easy to spot a well-maintained home.
Focus on the kitchen and the bathroom
These are two rooms that can make or break whether someone takes the plunge and buys a house.
Replacing the entire kitchen before going to market is probably beyond most people but small changes can make a major difference. It may be replacing the doors, adding additional storage space or even just painting units.
One thing for certain is the kitchen is not a room to neglect – and the same applies for the main bathroom.
Completing jobs such as removing limescale – whether through traditional products or the lemon juice and vinegar combination favoured by some – and re-grouting will ensure that your viewers' eyes won't be drawn to any unwanted distractions.
And don't forget the garden
First and last impressions will be crucial and they may well come from the front and back gardens.
Mow the lawn, cut back any overgrown shrubs and bushes, remove weeds and generally show your outdoor spaces some extra TLC to ensure the full potential of what your would-be buyer may do with their garden can be easily visualised.